According to the latest spreads by Sin Letter, there are currently some huge M&A arbitrage opportunities in the market. However, the bigger the spread, the bigger the risk, and a large spread is often an indication of market skepticism that the deal will ultimately go through.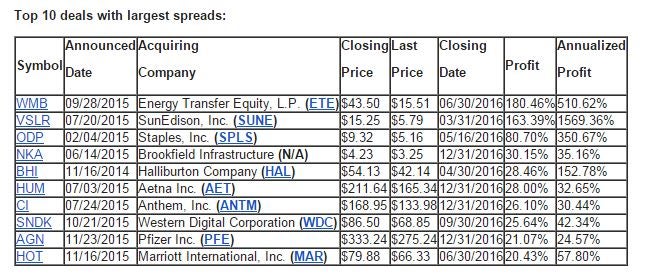 The largest spread in the market today is the 180 percent spread in the price of
Williams Companies Inc
WMB
, which had agreed to a buyout at $43.50 by
Energy Transfer Equity LP
ETE
that was expected to close by the end of June 2016. Clearly the massive spread indicates that the market has its doubts about the deal.
The nearest potential closing date on the list is the acquisition of
Vivint Solar Inc
VSLR
by
Sunedison Inc
SUNE
for $15.25, a deal that was expected to close by the end of March. With Sunedison's stock now trading below $1.50 and Vivint's spread 163.3 percent, the market doesn't seem to have much faith in this deal as well.
In addition to the two deals mentioned above,
Staples, Inc.
SPLS
's potential buyout of
Office Depot Inc
ODP
,
Brookfield Infrastructure
's potential deal for
Niska Gas Storage Partners LLC
NKA
and
Halliburton Company
HAL
's potential acquisition of
Baker Hughes Incorporated
BHI
round out the top five largest M&A spreads.