[Ed Note: The total value of all remaining physical silver on the planet is at best $56 Billion at current prices. And according to Ted Butler, it's more like $28 Billion... Are you starting to get the picture here?!]
by Maureen Farrell, Money.CNN.com: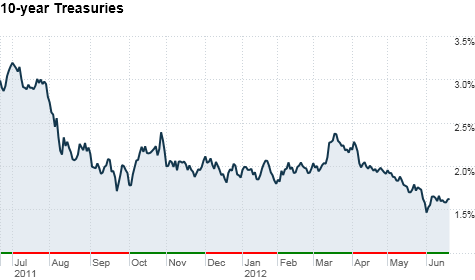 Bond yields are twisting much like they did last fall following the Federal Reserve's announcement Wednesday that it is extending its so-called Operation Twist program — a widely anticipated move.
Under Operation Twist, which was introduced by the Fed last September, the central bank planned to buy Treasuries with maturities between 6 and 30 years before the end of June 2012 and sell the same amount with maturities of 3 years or less.
The move was designed to boost lending and lower longer-term interest rates.
On Wednesday, the Fed said that it will keep the program going "at the current pace," with the aim of buying $267 billion worth of Treasuries by the end of 2012.