A new study of industrial fishing practices has found that the world's fish catch peaked more than 20 years ago and has been declining since. Worse, it finds that the steady increases in the catch prior to the 1980s were achieved not because there were lots of fish. Rather, because the industry constantly moved to new fisheries, leaving behind depleted ones.
The study, conducted by the University of British Columbia and the National Geographic Society, found that the world catch of fish went from 19 million metric tons in 1950, when the UN Food and Agriculture Organization (FAO) began compiling records, to 90 million metric tons per year in the late 1980s. The steady increases were cited by the industry as evidence that the fisheries were healthy and productive. In fact, the new research shows, the industry was exhausting and abandoning fishing ground after fishing ground, masking the depletion by moving to unexploited areas.
After the 90-million-tonne high point, the world catch fell to 87 million in 2005, the last year covered by this study, and continued to plummet to fewer than 80 million in 2008, according to the FAO. In the documentary movie The End of the Line you can watch the reckless plundering of fish. Industrial fishing is so effective that scientists predict that 'business as usual' practices will see the end of most seafood by 2048. That would be about the time human population peaks at around 9 billion – and about 20 years after we pass the 450ppm carbon dioxide and two or more degrees of the global warming threshold.
The End of the Line chronicles the decimation of fish populations with modern fleets that use military technology and spotter planes.
The UN Food & Agriculture Organization, reckons that the world produced 145.1m tonnes of fish in 2009. About 38% of this came from aquaculture, or fish farming. The rest consisted of fish caught in the wild, mostly at sea. In 2008, over three-fifths of the world's farmed fish came from China. India was the second-largest producer, but its output was just over a tenth of China's. Myanmar produced only 7,000 tonnes of farmed fish in 1990. By 2008, its output of 675,000 tonnes made it the world's twelfth-largest aquafarming producer, with an output larger than America's. Japan and Taiwan (not shown) are the only producers in the top 15 where output was smaller in 2008 than in 1990.
Fishery and Aquaculture Statistics
The fisheries and aquaculture sector is crucial to food security, poverty alleviation and general well-being. In 2008, the world consumed 115 million tonnes of fish, and demand is rising. Fish and fishery products are a vital and still affordable source of food and high-quality protein. In 2008, fish as food reached an all-time high of nearly 17 kg per person, supplying over 3 billion people with at least 15% of their average animal protein intake.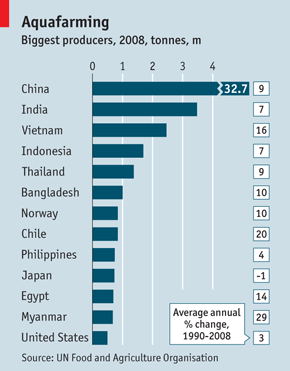 The increasing demand for fish highlights the need for sustainable management of aquatic resources. The generally increasing trend in the percentage of overexploited, depleted and recovering world marine stocks compared with the decreasing trend in those that are underexploited gives cause for concern. Aquaculture will become more and more important and is the fastest-growing food producing sector (+6.6% p.a.). It is set to overtake capture fisheries as a source of food fish.
Nutreco
There are several companies in different sectors that can benefit from the Peak Fish dilemma. The first one is Nutreco, also mentioned in one of my published articles on Seeking Alpha.
Nutreco (NUTCF.PK) is an international producer of animal nutrition (54% of sales of EUR 4.9 billion in 2010), fish feed (27%) and meat/other (19%). Nutreco's business groups have over 100 production and processing plants in some 30 countries, with sales in 80 countries.
In terms of revenue, the company is among the top three companies in the global animal nutrition industry. The company has a leading 38% market share in salmon feed (75% of total fish feed). In pre-mixes, Nutreco is the world's second largest player with a 12% market share. Also it is the fifth-largest compound feed producer with a 1% global market share.
Nutreco has strong positions in its traditional markets in Europe and North America and has a foothold in key growth regions such as China, Brazil and Russia. Last year the company invested in capacity expansion to facilitate growth in feed specialties and fish feed.
Marine Harvest
The second company comes from Norway and is listed on the Oslo Stock Exchange. Marine Harvest trades in the U.S. as MNHVY.PK.
Marine Harvest is the world's leading seafood company offering farmed salmon and processed seafood to customers in more than 70 markets worldwide.
The company is present in all major salmon farming regions in the world and the biggest producer of farmed salmon, with one fifth of the global production. In addition to fresh and frozen salmon, Marine Harvest offers a wide range of value added products such as coated seafood, ready-to-eat meals, delicious finger foods and smoked seafood. Though salmon is the main farmed product, the company also farms trout and white halibut.
Marine Harvest Group is the result of the merger between Pan Fish ASA, Fjord Seafood ASA and Marine Harvest N.V. in 2006 and employs 4800 people and has operations in 21 countries worldwide. The company has salmon farming and processing activities in Norway, Chile, Scotland, Canada, Ireland and the Faroes. Value adding processing activities take place in the U.S., France, Belgium, the Netherlands, Poland and Chile.
Marine Harvest has published the Industry Handbook 2010. The purpose of this handbook is to give financial analysts, investors and other stakeholders better insight into the salmon farming industry.
Tyson Foods
The last company which could profit from the Peak Fish story is an American company called Tyson Foods (TSN). Tyson Foods, Inc. is a multinational corporation based in Springdale, Arkansas, that operates in the food industry. The company is one of the world's largest processors and marketers of chicken, beef, and pork, and annually exports the largest percentage of beef out of the United States.
Tyson Foods is one of the largest U.S. marketers of value-added chicken, beef and pork to retail grocers, broad line food service distributors and national fast food and full service restaurant chains; fresh beef and pork; frozen and fully cooked chicken, beef and pork products; case-ready beef and pork; supermarket deli chicken products; meat toppings for the pizza industry and retail frozen pizza; club store chicken, beef and pork; ground beef and flour tortillas.
It supplies all Yum! Brands (YUM) chains that use chicken (including KFC and Taco Bell), as well as McDonald's (MCD), Burger King, Wendy's (WEN), Wal-Mart (WMT), Kroger (KR), IGA, Beef O'Brady's, small restaurant businesses, and prisons.
The three companies described above are leaders in their industries and could benefit hugely the coming years when Peak Fish gets more attention in the investor's space.